Instant convenience products
Little helpers for food industry professionals
In our highly mobile society, out-of-home catering is increasingly important. Convenience products have established themselves, particularly among major consumers, as a way to fill empty plates for hungry people quickly and almost instantly – as any cook in an industrial kitchen will know.
With our user-friendly ProfiLine, RUF is here to help you with day-to-day work in your kitchen.
Food service with tradition
We have decades of experience in food service and offer professionals the best support in everyday work in the kitchen with solid specialist knowledge and a consistent approach to quality. Our easy-to-use products offer high-quality solutions even for lower budgets. They all come in practical containers, too.
To keep up with the trend of eating out, we offer instant convenience products for communal catering, institutional catering, industrial canteens and hospitality kitchens. Industrial kitchens use our baking ingredients, desserts, dessert sauces and thickeners in all areas.
RUF ProfiLine – your capable partner
With our RUF ProfiLine, you're in safe hands:
User-friendly and adapted to meet the needs of major consumers and food industry professionals
Tasty products to suit your budget
Ready in an instant
In order to keep up with the trend towards eating out, we are constantly expanding our product groups and aligning them based on market requirements.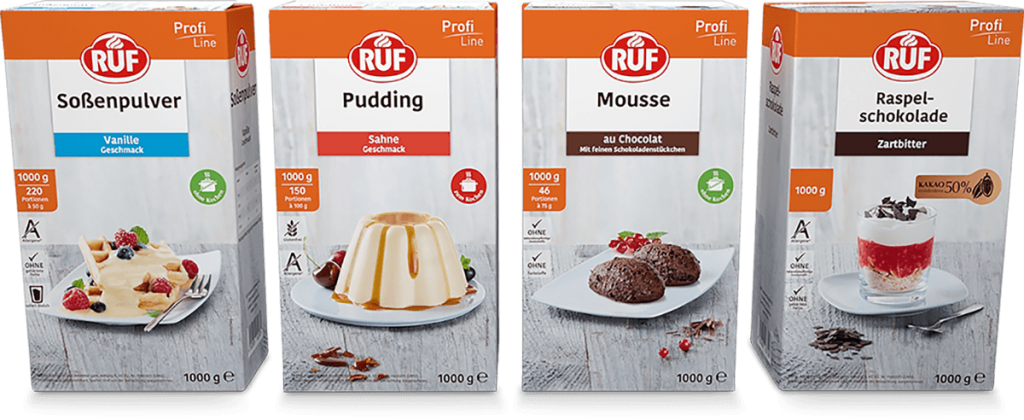 Variety for your kitchen
You can find the entire RUF food service range in specialist wholesale in various containers and packaging sizes.
Folding boxes; contents: 1.0 kg
Cooking dessert powder
Cream dessert
Dessert specialities
Jellies
Sauce powder
Mousse prepared with water
Basic doughs/baking mixes
Baking ingredients
Decorations
Thickeners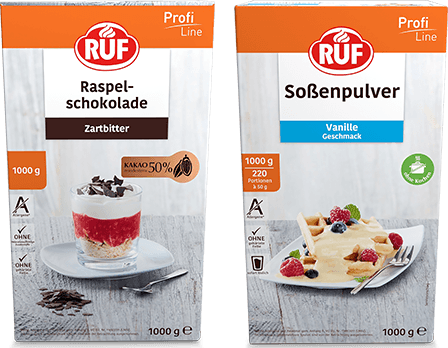 Sachet; contents: 1.0–2.5 kg
Cooking dessert powder
Cream dessert
Jellies
Cold soups and porridges
Sauce powder
Baking ingredients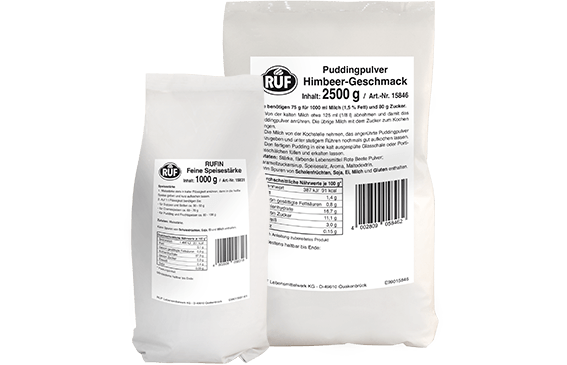 RUF food service available 24/7
Our full product range is available around the clock at the selly.biz online shop. Take a look and order our products straight to your kitchen!
Professional to professional
We care about making sure you always have the right contact to hand. Our professional team are on hand to provide you with quick and simple advice.
Be inspired by ideas, products and support from our sales team.