Twice as tasty: Brookies
Why choose brownies or cookies when you can have both? Our 'Brookies' (brownies and cookies) bring together the best of both worlds. A moist and chocolatey brownie base meets tasty, crunchy cookie dough on top. We've thrown in a few extra chocolate chunks to give the cookie dough a lovely creamy and chocolatey touch.
Chocolatey treats in an instant
RUF Brookies are super quick and easy to make with just a few ingredients. You don't even need a brownie baking tin – a folding baking tray is already included. Whether you're baking for a kids' birthday party or popping in for a spontaneous visit: our Brookies make it quick and easy to whip up a tasty treat.
Keep your Brookies moist and crunchy
You can also bake them one day to enjoy the next. To keep them moist on the bottom and crunchy on top, cover them properly with cling film. They'll last up to three days that way.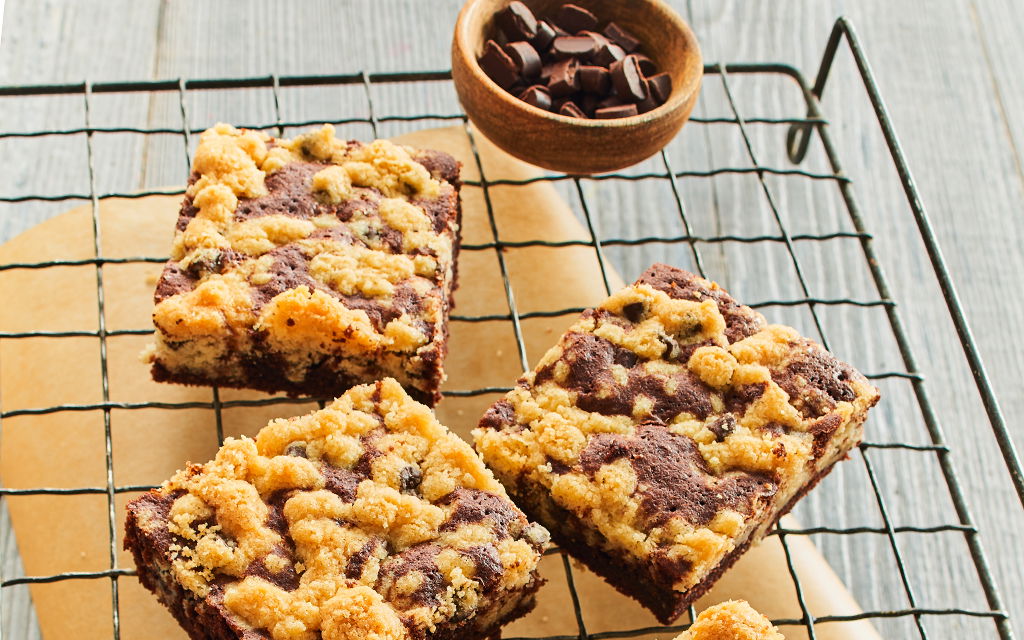 For the brownie batter:
1 egg (size M)
80 g liquid butter or margarine
65 ml water
For the cookie dough:
100 g butter or margarine
Fold baking pan
Carefully loosen the adhesive dots on the baking pan and unfold the pan completely. Fold the top of the edges outward, tucking the tabs into the openings.
Melt the butter and prepare the crumble
Place the butter in a saucepan, melt and let cool slightly (about10 minutes).
Put the baking mixture for the crumbles together with 100 g of softened butter or margarine in a mixing bowl and mix with a hand mixer (dough hook) or your hands until crumbles are formed.
Prepare the dough and bake
Place the cooled melted butter, water, egg, and baking mix in a mixing bowl and mix with a handheld electric mixer (whisk attachment), first briefly on low speed, then on high speed until creamy, about 3 minutes.
Pour the batter into the baking dish and smooth it out. Spread the crumbles over the batter and bake the brookie in the preheated oven on the middle shelf.
Brownie baking mix: sugar, wheat flour, fat reduced cocoa powder (3,8 %), 3,5 % ground dark chocolate (cocoa mass, sugar, cocoa butter, emulsifier lecithins, natural bourbon vanilla flavouring).

Cookie baking mix: wheat flour, sugar, 6,5 % chocolate pieces (cocoa mass, sugar, cocoa butter, emulsifier lecithins), salt, natural flavouring.
The prepared product contains:

100g
Portion ( 42g )
RAA *
Energy (kJ)
1918

kJ

805

kJ

10

%

Energy (kcal)
459

kcal

193

kcal

10

%

Fat
25

g

10

g

15

%

of which saturates
7.2

g

3

g

15

%

Carbohydrate
53

g

22

g

9

%

of which sugar
30

g

13

g

14

%

Protein
5.3

g

2.2

g

4

%

Salt
0.19

g

0.08

g

1

%

* Reference for an average adult (8400 kJ / 2000 kcal).
Information for persons with allergies and/or intolerances

This product contains the following allergenic ingredients according to the law:

Due to our wide range of products, different articles are produced on the production lines, so that traces of certain allergens cannot be completely avoided despite careful processing:

May contain traces of egg, milk, soya, nuts, mustard and lupins.
You might also like these products...